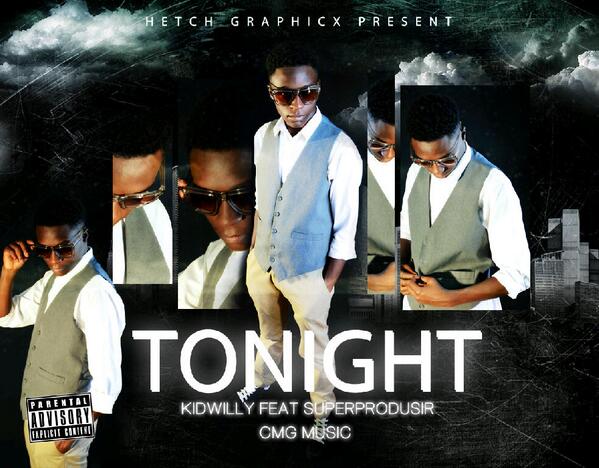 Last week was a long azz weekend in Kenya, I practically got thrown off the zone and I must admit I have been lazy since then. All the links send to me just laid there unattended to, too bad. I wish I could join my brother in Dhaka for a Holiday, but work has to be done. That aside,  it's back to bizniz. I must give you that fresh new talent out there that Africa should quit sleeping on. So this kid (pun intended) linked me  up with his video on twitter, I must say in the politest way possible but it took me two days before I actually got to watch it. Honestly, I just watched after my kid sister shared it on her Google+ account. Anyway, I don't ignore links, I could have come around to watching it somehow.
Kid Willy is actually a spoken word artist, I had listened to his pieces sometime back but it was not that mind blowing. All that changed when I clicked 'play' for his new video, Tonight. This industry is very small,  I quickly noticed that the production credit went to Superprudusir, a good friend of mine. Kudos for the job brother. The first thing that stands out is Kids wordplay. Here is the secret, continue utilizing the spoken word aspect you have in your raps and sooner than they think, you will be at the top. Now back to the video, Willy has a great on-camera presence. In fact, he maintains that through out the video. The lighting is well done and the effects work to his advantage.
This is a sweet love song, especially for those who love easy listen type of music. The story flows well and you keep up with what the kid is talking about. The ladies are lovely too, the chemistry between them flows freely, nothing looks forced. For once again, I am proud of what is becoming of the Kenyan music scene, fresh talent keep sprouting and if nurtured well, that Grammy will land here soon. Watch tonight below and support this talented kid.
Follow : @IllKidwill